Get free traffic from 0 To 150,000 visitors fast.
That will totally BLOW your mind! Do you want to get a HUGE numbers visitors (buyers) to your selling page? Chek this out and get free traffic!
A typical process of earning money on affiliate programs for beginners is that they register, find some crappy goods with a high commission and begin to fantasize about how they are going to earn. Why it happens? Because they direct random non-targeted traffic to their link and receive inappropriate clicks and get zero revenue. Finally, after several unsuccessful attempts, they conclude that the platform sucks. Sounds familiar?
How it actually works for many successful affiliate marketers?
What you will learn from this article: how to get free traffic to make money from ClickBank as an example, step-by-step actions that really work. But this formula also works with any other networks like JVzoo, WarriorPlus, CJ, etc. Let's GO!
Why ClickBank?
You may ask yourself, why sell e-books and online courses from unknown manufacturers, if you can just sell products with a good reputation on Amazon?
Firstly, online education is a huge market, and ClickBank itself brings about a quarter of a billion dollars in sales revenue per year.
Secondly, there is beauty in digital products. This beauty brings the maximum possible profit, because making an electronic copy is almost worthless (except for marketing costs) and 100% of the revenue can be considered profit. High profits = high affiliate commissions and Clickbank pays up to 75%.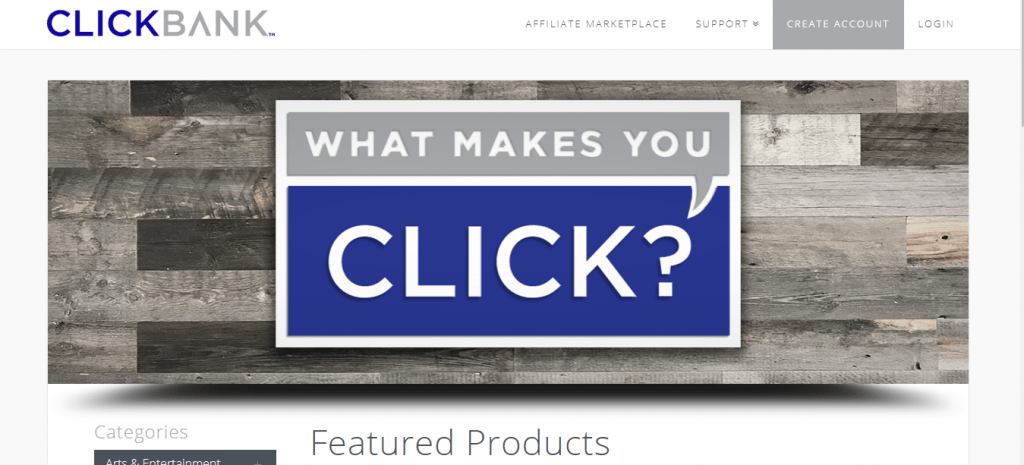 Pros and Cons of ClickBank
Many people like CBank because it is a great place for newbies. Affiliate network where you can easily start making decent money through the Internet.
There is no restriction and you do not need to be approved for 90% of the offers, and you can immediately start selling. This is a huge plus when you start and there is no experience yet that needs to be shown to large affiliate networks.
Here is a short list of platform advantages:
1. Many offers with a high commission (up to 75%)
2. Can be promoted in most countries of the world
3. There is a steady income from repeated sales.
Minuses:
1. A lot of low-quality products and sales pages
2. Great competition on popular programs
To make money with ClickBank, you need to follow the same formula as in any successful business.
1. You need a reliable product that customers want, because it solves their problems;
2. You need a good selling review for this product, which you will place on your blog with an affiliate link. There are many other ways of promotion, for example, banner advertising, teaser, native, SEO and so on, but for our method, promotion using a reviews (pre-sale pages) works best!;
3. You need traffic that will be converted to profit.
Then you need:
• increase traffic;
• optimize blog pages;
And as soon as you see that it is profitable, that is, the profit is greater than the cost, then all this can be scaled.
Making money is easy on paper. But unfortunately, few people make an effort to do it right. In fact, 90% of the income of partners throughout the network is accounted for by 10% of webmasters.
Our instruction for the right actions that will lead to a positive result
1. How to find the right products to promote:
When you go to the marketplace tab and select the category you are interested in, you see a list of offers and each of them has indicators, such as:
Initial $/sale: The average amount of money earned by partners for the sale.
Avg %/sale: % affiliate sale price. How much commission partners earn on average.
Grav: Gravity, the number of partners who have sold this product in the last 12 weeks.
Total Rebill: Average $ affiliates. How much they take as a commission as a result of Rebill (monthly transactions until the buyer cancels his subscription / membership).
Avg%/Rebill: average% rebills paid to a partner.
Do not chase high payouts from your first (initial) sale!
Look for offers with a low initial price, but pay attention to rebill %, if the rate is high, this means customers are buying more goods from the funnel or renewing the subscription;
Sales pages with video or "native" text and images (information is "inside" the main content, and not on the side or at the end);
Offers with good online reviews (low returns = more money);
Gravity above 20 means the page is converting pretty well.

2. How to make best "pre-sale" page:
Carefully read the offer page, look what people say about it on social networks, and based on the information collected independently and that provided by the seller, write a good review, which will indicate what the problem was and how this offer helped solve it. One of the most excellent layouts for writing sales reviews is the AIDA advertising formula. The essence of the formula includes 4 basic theses, the task of which is to push a person to perform a certain action (usually a purchase). Such an advertising model is equally used for selling pages, as well as for other types of advertising campaigns: in print media, on radio, television, in Email newsletters, etc.
A – Attention
I – Interest
D – Desire
A – Action
The order of values is not random. It is this sequence that corresponds to the psychology of not only the client, but also the person as a whole.
No matter how good you are at promoting, if you attract visitors to a sales page that does not sell, you will not make a lot of money.
This item is very important, since the pre-sale page warms up the interest of the target audience in the product and can give a good increase in your sales up to + 60%! An interesting review with a lot of keywords goes well in search with SEO. Also, people often share useful articles on social networks, which gives a very good boost to your traffic absolutely free!
We will return to the topic of selling pages in a separate article, and here we have outlined only the essence and significance, but if you do not have time to research the offer and you encounter difficulties in creating a page and writing a review, you can always make an application on the Fiverr exchange for little money .
3. Where to get a lot (and free) of targeted traffic:
What we know about driving traffic: this is that there are two options – these are paid methods and free ones. And then it's already possible to divide into methods – social media marketing, e-mail marketing or soloads, spam, banner advertising, SEO website promotion, creating videos on Youtube and so on. Any way to attract traffic is good and has a right to exist, but today we are considering how to get targeted free traffic quickly – from 0 to 150,000 visitors in 30 days!
So, our secret sauce of promoting ClickBank affiliate products (the method is suitable in any niche) is Pinterest Marketing. Today Pinterest is the best social network to sell and receive visitors.
How many sales can you get with this great traffic source? Count for yourself:
300+ million customers buy everything there every day. More than 80% of the Pinterest visitors buy something all day long. You can attach a link to your site to each Pin and very quickly promote a completely new site to 2000+ new visitors per day. One successful picture can gain tens of thousands of clicks. A lot of marketers are switching to Pinterest because more and more people are starting to sell products from:
Etsy;
ClickBank;
Aliexpress;
Amazon;
WarriorPlus;
JVZoo.
Just take a look at these amazing facts:
1. A Pin is 100 times more widespread than a regular tweet;
2. Each picture can bring at least 2 visits or 6 views;
3. The life of the Pin is one week! Compare this to 25 minutes on Twitter, 90 minutes on Facebook, and 60 minutes on VK.
4. For many bloggers, Pinterest is the #1 source of social traffic.

So, how to sell more ClickBank products through Pinterest?
Here are some useful tactics you can use to improve your strategy for promoting and attracting visitors.
1. Register a business account.
To truly see the results of your consolidation efforts. Register or convert an existing account to a business account. It's Free.
After confirming your site on Pinterest, you will have access to analytics in which you will see a lot of useful information on subscribers, views, clicks, conversions to the site, etc.
Pins for articles are useful for bloggers, as you can advertise your latest blog post with your own logo, large headline and link to your website.
2. Focus on the description of each Pin.
Under each picture there is a description telling the reader what this Pin is about. Typically, bloggers have a blog title and a short description of the post, but to really raise the Pins, you need to do more than a simple description.
According to Pinterest analytics, for a high rating, your Pin should be:
Useful – simplify the search for a Pin with an accurate description, useful pins get 30% more activity.
Detailed – explain in a couple of sentences what your Pin is about. Provide enough information to seduce a person to go to your blog.
Interesting – attract the attention of a pinner with the words of magnets and positive phrases.
Action – include a call to action in the description. Using phrases such as "check …" or "click to find out more" can increase engagement by 80%.
Vivid – your image should attract attention.
To make your Pin more informative, add text to the image.
Add appropriate hashtags to the Pin description.
Finally, to really promote and advertise your content, be sure to include SEO-optimized keywords in your description and be as brief as possible.
Well, of course, to succeed at the Pinterest you need to be active and constantly fill the boards with new attractive Pins. That there were keywords to search in Pinterest and Google.
So we come to the most important point. Automation.
Every day Pinterest searches through referral traffic attract millions of visitors to other sites. Each time someone saves your Pin, his followers also see him, opening up access to him to even more people with similar interests.
This means that not only your subscribers will see your pins. This makes Pinterest a great place to find new customers, increase traffic and make decent money on autopilot.
But in order to truly 100% automate Pinterest marketing, find customers, subscribers and generate traffic 24/7, we recommend the new Pinflux software.
Look this video:
How to grab free traffic from Pinterest?
To fill our boards and get free traffic on autopilot, we don't even need to look for pictures or draw something. There are tons of popular pins that already come with descriptions and hashtags for searching on Pinterest and Google. Do a little research on popular products and Pins, and just copy what works and sells well. Find out more by clicking the link:

Conclusion.
What do we need to do to get visitors to our overview (sales) page:
We buy a domain with hosting for a wordpress blog in the international zone at GoDaddy.
We make an overviews of the selected products on the blog with our affiliate links.
Create a profile on Pinterest, create a free business account and confirm your domain.
Make 10-100 boards on the Pinterest.
Next, we take the Pinflux program and make Pins for popular keywords (fitness, weight loss, diet tips, exercise tips, workout tips, fat burn).
We take ready-made Pins of people and insert a links to our blog post, otherwise the links will reject. Pinterest does not publish links to ClickBank and other affiliate networks. That's why we need a blog, it is used as a pre-sale page.
Post 15 Pins per hour. Traffic has gone.
This method allows you to earn money without building a team, meetings and negotiations. At zero cost for advertising, traffic and SEO.
More traffic, more subscriptions to your Pinterest channel = more sales.
As a result, your channel will bring hundreds of thousands of views, and even if only 5% of all views are converted to sales, then over time it's possible to start making thousands of dollars monthly.
One more time CLICK HERE